Our Frequently Asked Questions should cover most inquiries, but if you'd like more explanation please reach out – we'd love to hear from you!
Where are you located?
We provide the majority of our services right in the comfort of your home. We have artists in the Lower Mainland and Fraser Valley of British Columbia, and in Winnipeg, Manitoba. We mare able to come to your home, the hospital, or any other location that has warm water available for us to work with.  
Are you a franchise?
Definitely not! Memory Castings Inc is owned and managed by artist Desneige Meyer. Each of our artists are hired for their experience ands skills, and all quality control measures are straight form the owner. We will never franchise, license, or allow non-artists to create your keepsakes. We are 100% Canadian; socially and environmentally conscientious; and passionate about creating and capturing this moment in all it's perfection! 
How do I know Memory Castings is the best option for our family?
In the 16 years since Memory Castings has opened, we have cast more than 3000 pet paws; and 3300 people castings. All of our artists have extensive fine arts education and experience. As such, we can provide quality and customization that you simply won't find anywhere else. 
Can you repair castings we had made at the hospital, at home, or by another company?
We are experienced at repairing and reproducing many types of artwork. In most cases we will make temporary repairs to the piece, and then create a new mould and cast from it. That way, your finished artwork is made from high-end materials, and will not fall apart as repairing agents and glues fail over time. 
How long do you keep our moulds?
Dental Alginate moulds are prepared and poured the same day as your appointment, but disintegrate into compost after about 1 week. Any extra copies you want should be ordered at your design&casting appointment. In some cases we may create additional rubber moulds when you are ordering accoutrement and other copies. We may keep these on file for a short time, but we will not guarantee it.  If you would like to own rubber moulds with which to make additional copies at a later date, speak to us about pricing. 
How much does it cost?
We offer in-home Memory Castings design&casting, fully custom framing in our range of Shadowboxes, and delivery as part of every order.  All our pricing is up-to-date on your website, so check out our specific Offerings pages based on what you want. Feel free to  contact us for a quote on special orders, or if you need help deciding.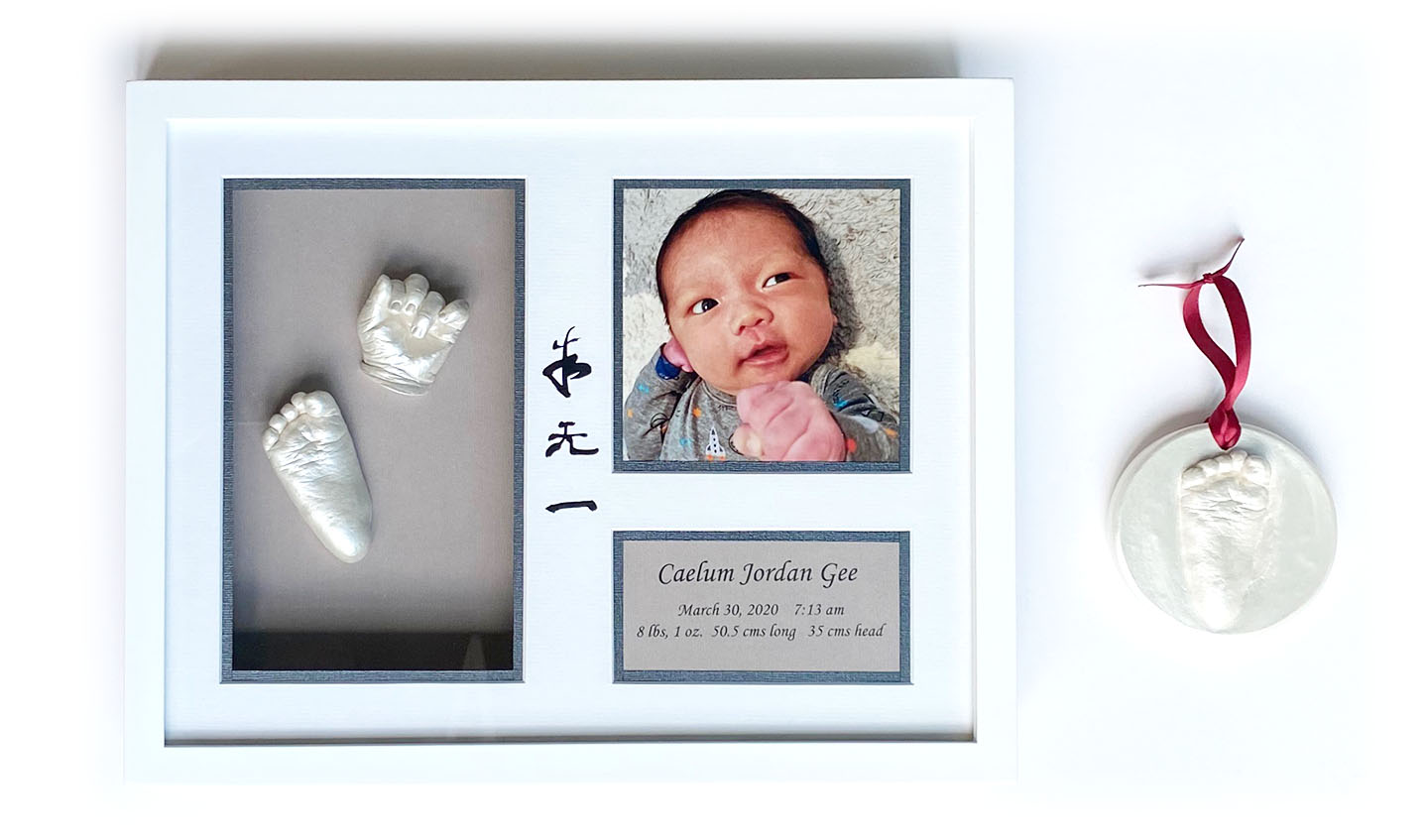 How are your dealing with Covid-19?
It is paramount that we keep your family safe, and our employees healthy. We continue to monitor and adapt to public health orders, but presently we are able to provide all services. We will wash our hands frequently and limit touching with your baby. We are also happy to wear a mask, or conform to other reasonable requests that help you feel safe. Every Memory Casting artist that comes to your home its fully vaccinated. 
Please advise us if you, or anyone in your home is sick, before your in-home design&casting appointment so we can reschedule.  Our staff will offer the same courtesy.  
We are not presenting conducting in-hospital casting appointment except in emergency situations.
My baby isn't feeling well. Will I be charged to cancel my appointment?
No! We are a team of parents, too. We want your baby and family to heal and feel better, and we don't want to be exposed to your germs. So, even at the last minute, we will never charge you for rescheduling your Memory Castings appointment. We do appreciate as much notice as possible, though. 
What are you using to cast my baby?
We use Dental Alginate, the same material the dentist would use to cast your teeth. As we source our Alginate from the dental industry, you can feel safe knowing that the potentially-harmful, cheapening fillers being used in art-supply Alginate will never touch your baby.
Does the casting material get warm or hard?
Plaster of Paris and other casting materials will "kick", which is an exothermic chemical process that makes things hot before getting hard. There are very serious burn risks, as well as encapsulation dangers, when these materials are used to cast bodies. We will NEVER touch your skin with dangerous materials. The dental alginate we use will be mixed with warm water to ensure it is comfortable on your skin, and is flexible and self-lubricating to allow easy release, even from the hardest of skin. 
How do you do it?
Essentially, we cast a high-detail mould of the hands or feet we wish to capture using dental alginate.  The alginate starts as a powder, and we add warm water from the tap in your kitchen to create the right mix.   The hand, foot, or paw we are casting will be held still in this alginate mixture for about 45 seconds, and once removed, a perfect mould will be left behind. The mould is then filled with stone, metal, or resin to create a sculpture that will last a lifetime.  We are a professional life casting service, so we will do everything for you, usually right in the comfort of your home!
Check out our detailed Process page for the steps you will take to move forward with creating Memory Castings.
What is the right age?
Casting newborns under 3 weeks is ideal if you're after the tiniest lines and wrinkles. We have cast babies as young as 4 hours old, and a grandmother who was 104 years old. There's no bad age!
How long does it take?
Each hand and foot sculpture takes only 45-60 seconds to cast. Your design&casting appointment will take 45-90 minutes, depending on what we are making, and how many people are involved. Your Masterpiece will be completed in about 6 weeks and then delivered to you. 
What if my child moves?
Our casting alginate is very forgiving, and we will check the mould carefully for imperfections before finishing. We will recast as necessary at no cost. With very active children, between age 6-18 months, it is quite common that we will make several moulds of each hand and foot, just to be safe.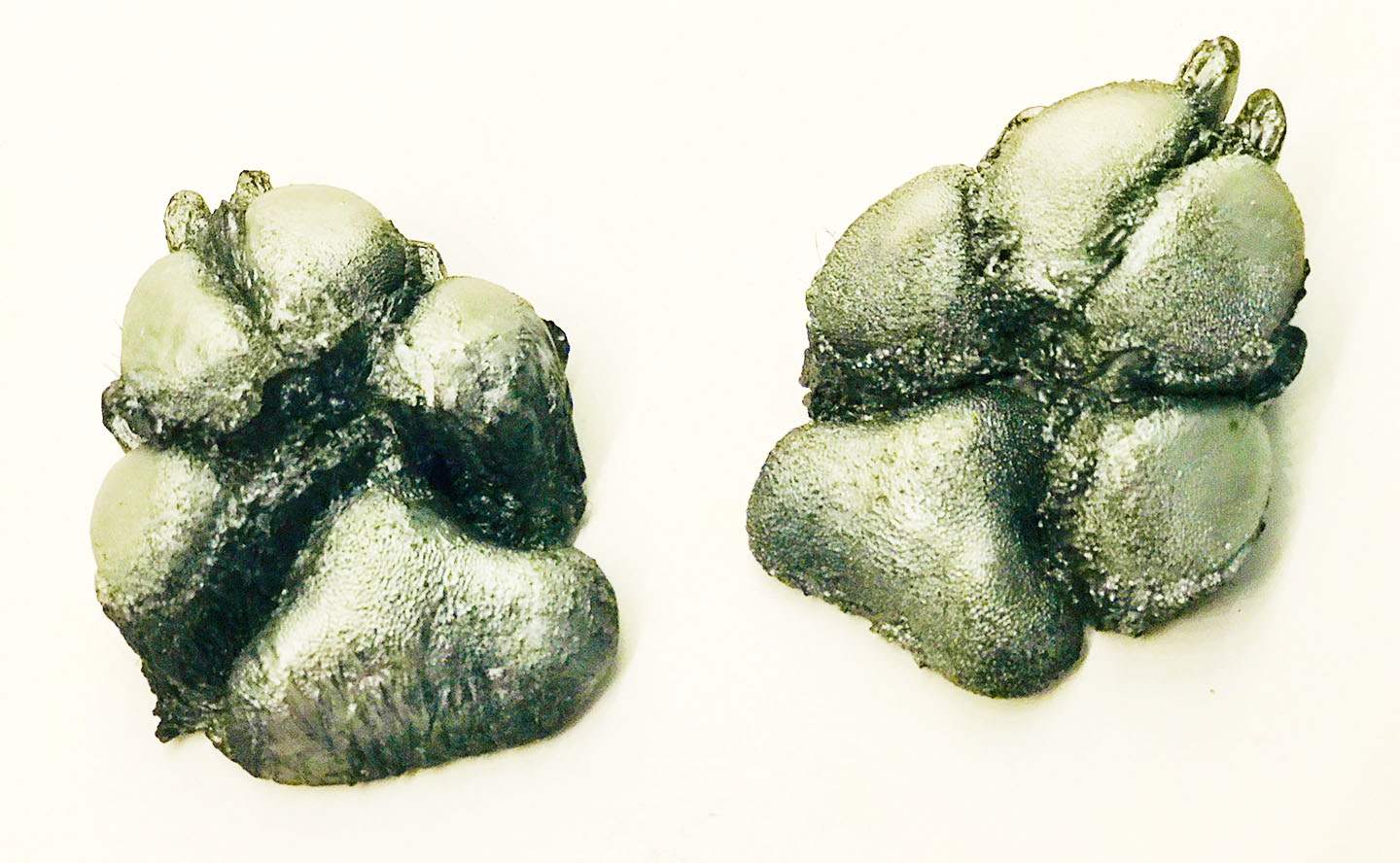 Can you cast my pet's paw?
We are happy to cast any healthy, well-behaved animals that can be reasonably still during the casting process. You will need to trim any long fur from their paws before the casting appointment. We can also do end-of-life castings for most pets, either at your veterinary clinic, or your home. 
Should my baby be sleeping?
Bigger children should be awake and scheduled for a time of day they are normally happy and energetic. Babies can be cast awake, asleep, feeding, screaming… It's not like they would follow our schedule even if we asked them to!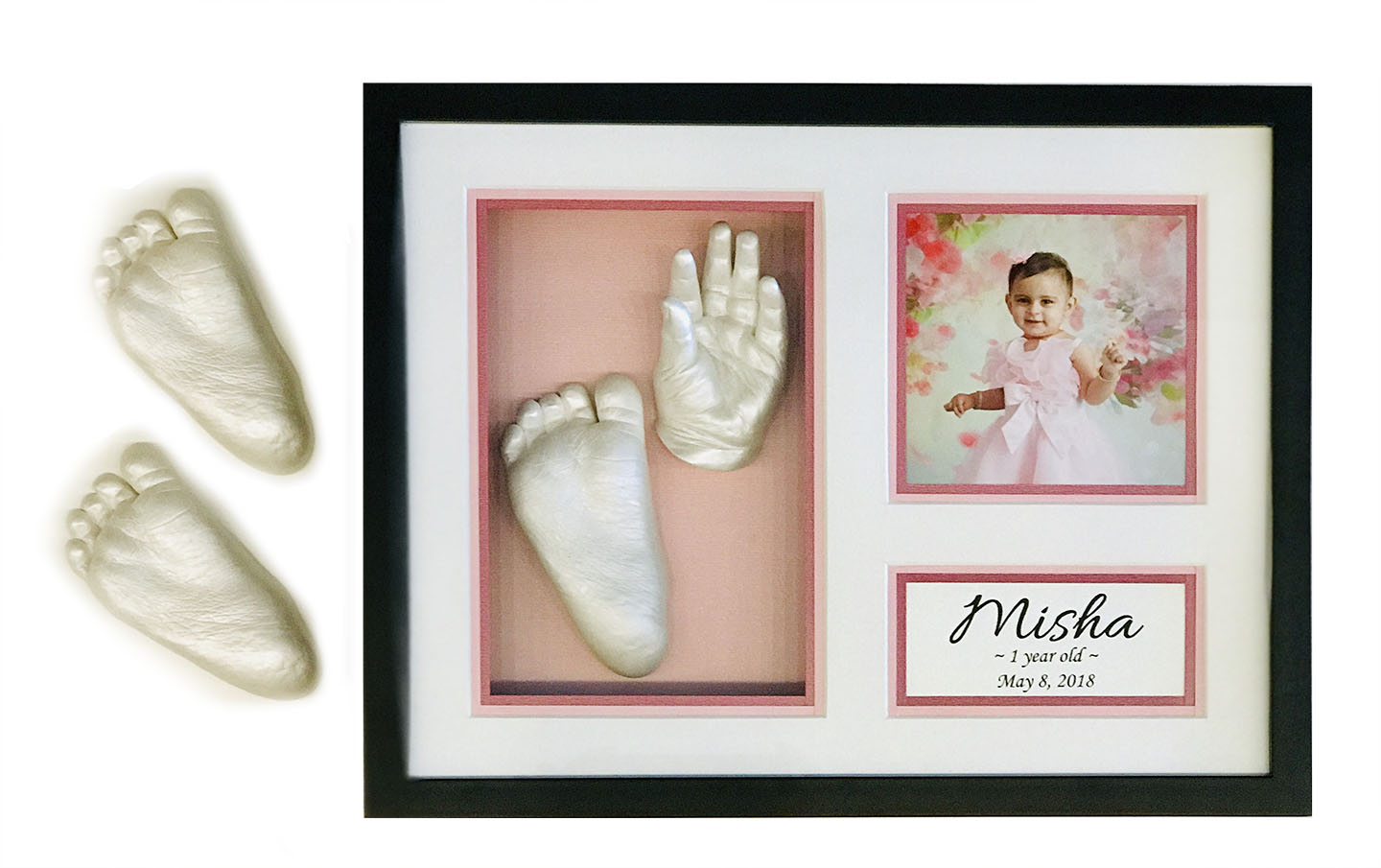 Shadowbox Options Available
What choices do we have for our shadowbox?
We offer mouldings in Black; White; and Walnut/Cherry finishes. We have four standard size shadowbox frames (5.5"x5.5" Micro Squares; 8.5"x11" Minis; 11"x14" Classic; and 10″x20″ Long Oversize frames). We can bring in other frames by special order, at an additional cost.
Inside your shadowbox, we offer hundreds of background and border colour options. We paint your stone Memory Casting Sculptures in any colour you like. We cut all our mattes in the studio, so the possibilities for layout are infinite.
What can I include in the Shadowbox?
Ultrasound printouts; hospital bands; locks of hair; first mittens or hats; commemorative coins; keepsake jewelry; engraved metal plaques and decals; or anything else important to you. Keepsakes must be less than 4cm deep. Including these items is always free. 
How much writing, and what fonts can I include?
Because everything we do is custom, the choice is up to you. Generally, writing should to be big enough to read from 18" away. Scripty fonts need to be a little bigger, whereas sans-serif fonts can be a bit smaller.  We do all our printing and vinyl letter cutting in-studio, so we can match any fonts or imagery you'd like, including using symbols and characters from other languages, or even zodiac symbols. 
Can I include photographs?
We love putting photographs in your shadowbox, and so we do it for free! But we are not photographers. It is best to email us the high-resolution photograph file after your design&casting appointment as you won't know the size, orientation, and number of photos until after we design the frame together.
How do I know what size Shadowbox I need?
Your artist will help you decide based on the size of the people or pets being cast, and the items and information you want in your frame. We tend to like simple designs that focus on the sculptures, but if you want to add photographs, text, and other keepsakes, bigger Shadowboxes provide more space for these items.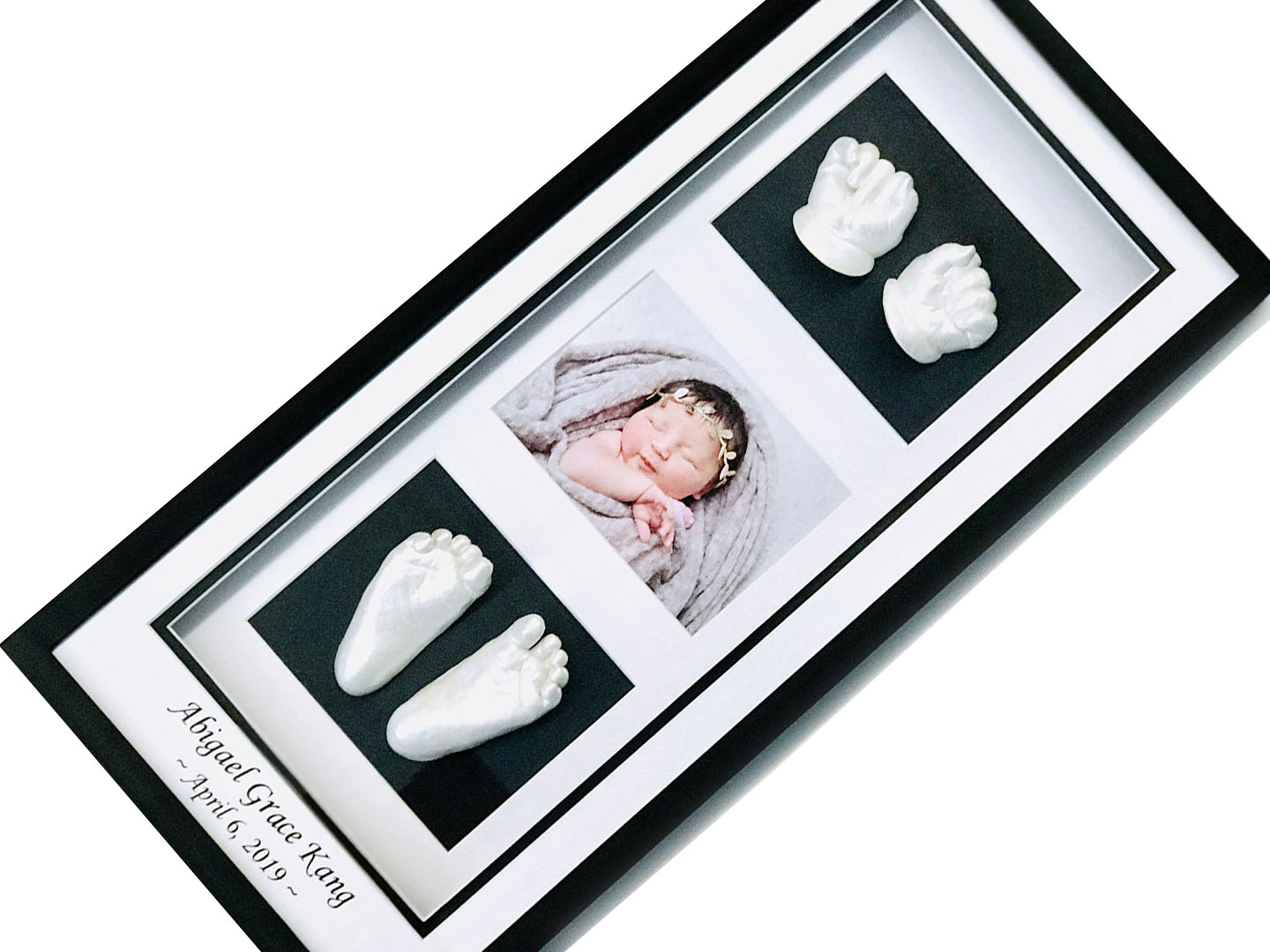 How many castings (sculptures) go in a Shadowbox?
This is up to you! Our pricing model is based on the number of sculptures, not the size or age of the person we are casting. How many fit will depend entirely on the inner layout of the matte you choose, and how big the hands and feet are that we will be casting. 
I have older children, but want to cast my baby. What can I do?
There is no age limit to who we can cast. You might choose to create a distinct shadowbox for each child, regardless of their age, or we can include casting from each child together in one frame that celebrates who your family is right at this moment.  
Can you match castings we had made by another company?
All the artwork we create is custom and made-to-order, so we can use any inspiration you'd like to work from. That said, we work only with our own shadowbox manufacturers, which are distinct from anyone else's. Generally, we can find a way to complement a different frame very nicely, but you should never expect an exact match. 
What are the most popular framing choices?
Not everyone loves to design from scratch, and that's okay. The most popular choices we find are:  opal/pearl coloured sculptures; writing the entire child's name in the frame; and including birthdate, time, weight, and length in newborn frames. For older children, it is more intuitive to include their age rather than birthdate, on the front of the frame.  Most people like to include one current photograph, ideally from a professional photoshoot. Our "Dillon" layout is -by far- the most common matte design. Monotype Corsiva is our default font for most text, as it is just a little bit fancy, but very easy to read, and works well for both feminine and masculine frames.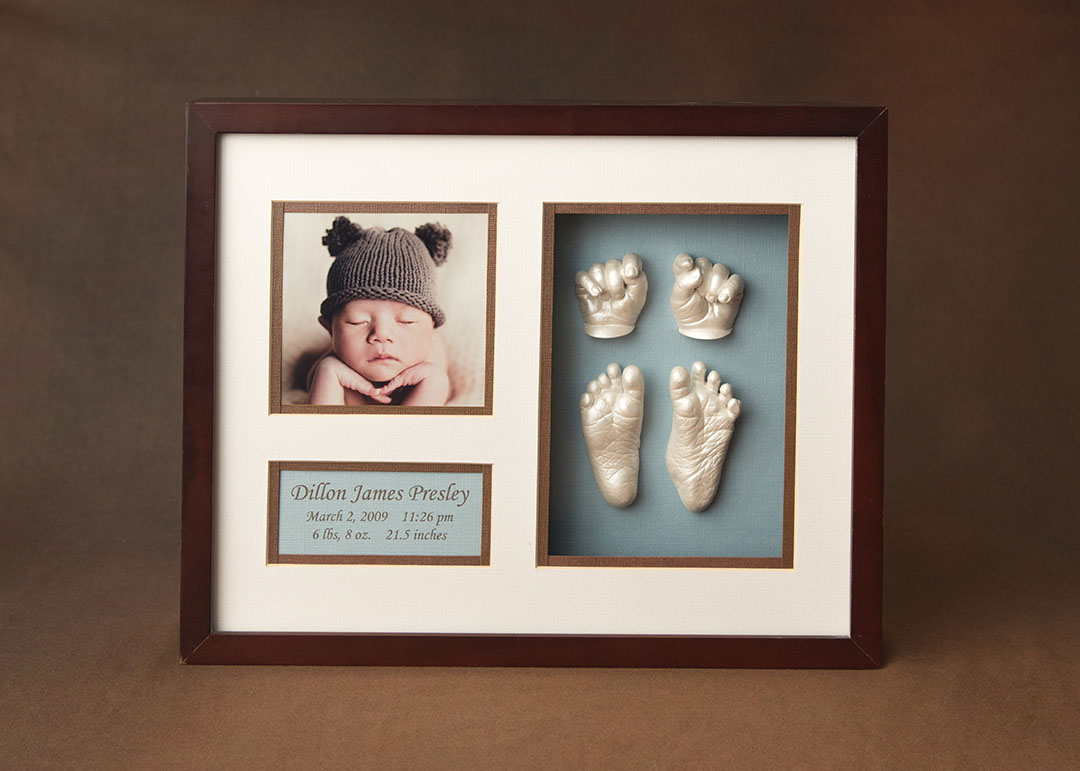 Our Dillon layout includes a 5-inch square photograph, large text box, and beautiful showcase space for the sculptures
I want to create a freestanding Love Sculpture. Are my children too young?
It depends entirely on the sculpture design you want. Holding hands can work well for parent+child castings at any age; and sometimes siblings holding hands. For Wreath or Centrepiece shapes, we recommend waiting until age 5. Partly, because little hands are hard to see and appreciate among the large ones; but mostly, because Love Sculptures can take a bit more time to cast, and it's harder for wee toddlers to do this successfully.
I want to create a Love Sculpture but am having trouble coordinating schedules. Can we cast people separately and put them together afterwards?
Love Sculptures with connected hands touching require everyone to be at the appointment and cast at the same time. If that is simply impossible, we can suggest alternative layouts where hands are not touching – such as a Shadowbox, or Solo Sculptures on a communal base.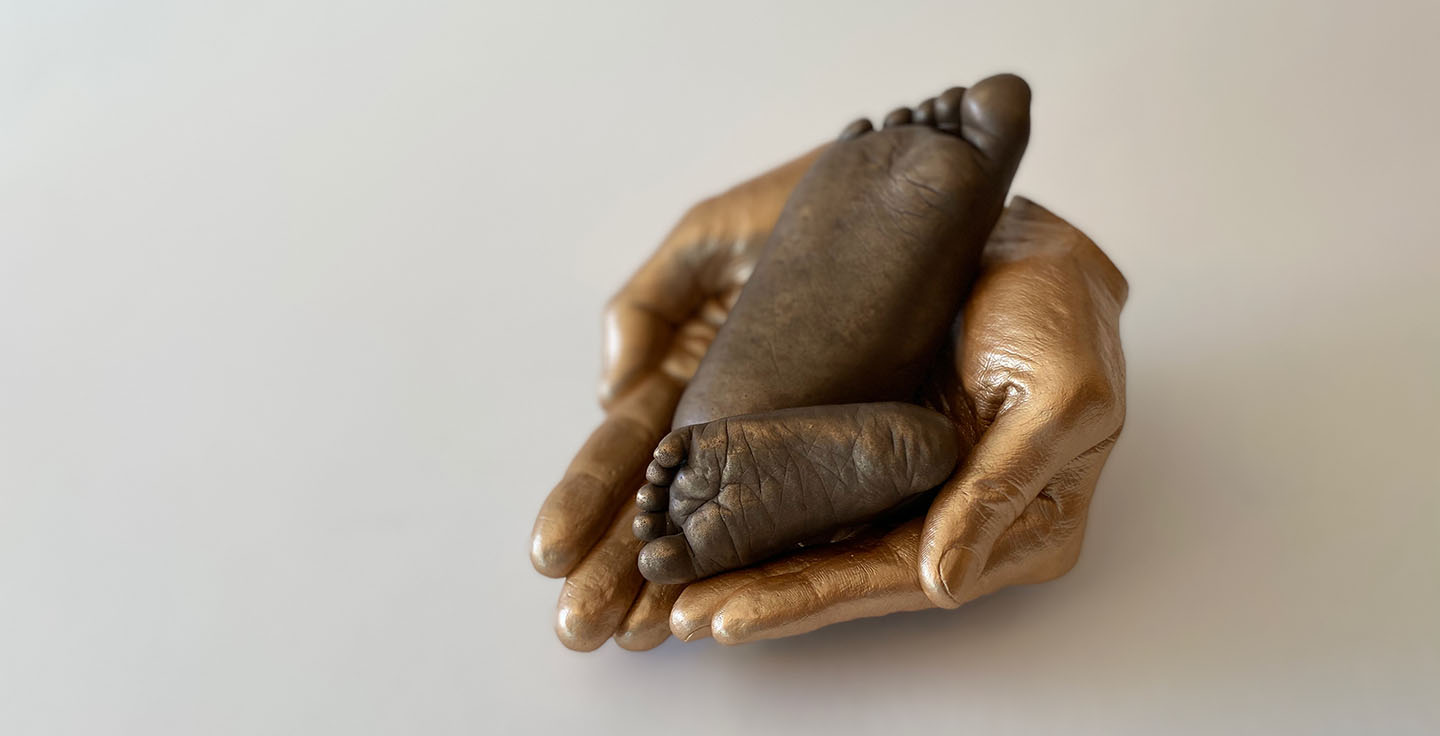 Is there a limit to the number of people we can cast together?
Not really. Indeed, a few years ago we created Love Sculptures of entire classrooms for a private school (30+ hands per sculpture).  
Is stone the only option for our Love Sculptures?
We always quote our sculptures as made in stone, as this material is the most economical, flexible option for most purposes. That said, publicly-displayed artwork should consider longevity and the risk of malicious touch. For these types of displays, cold-cast metal, foundry metal, resin, or being protected and covered should be considered. Talk to us about your application.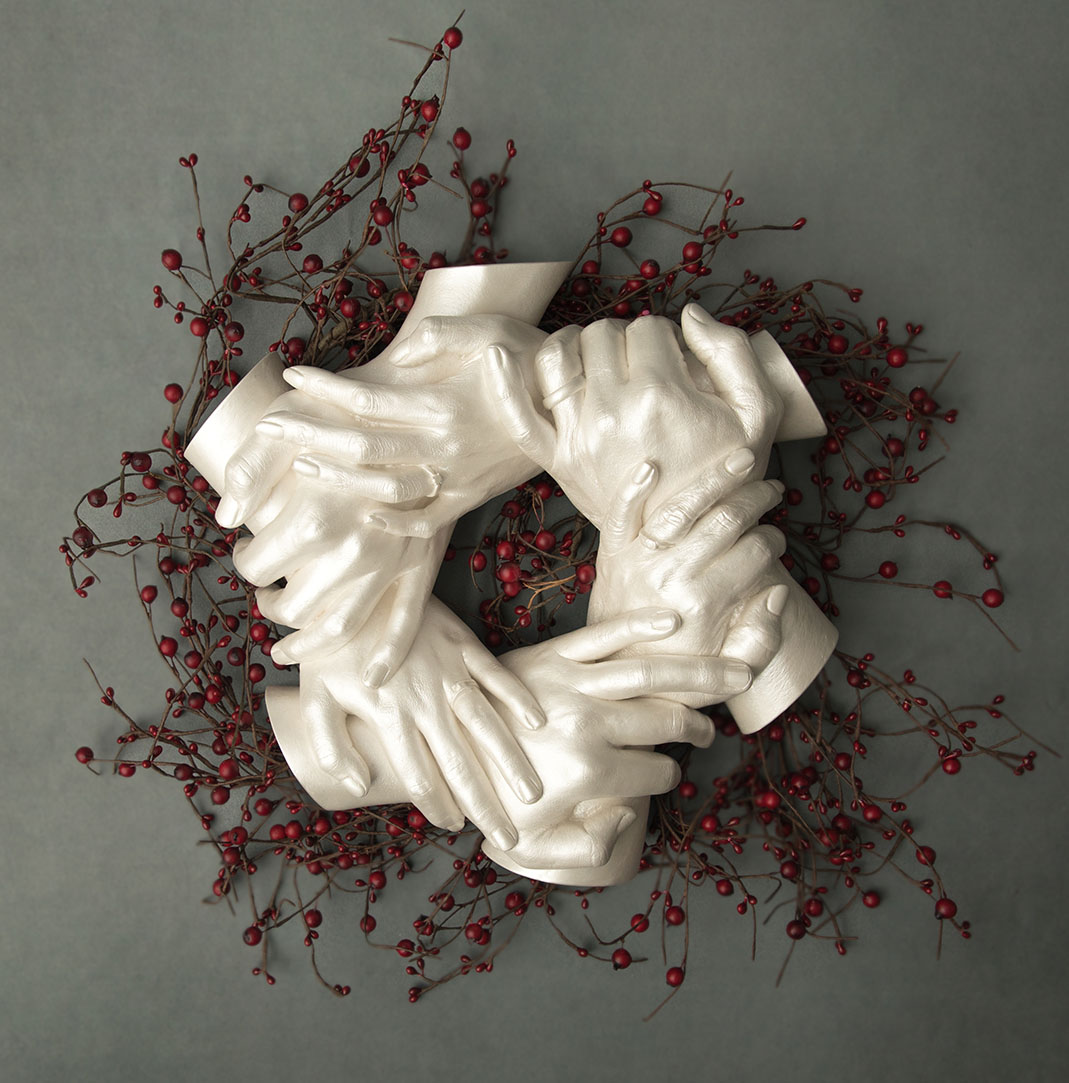 My parents have just decided they want Memory Castings of our baby. Can they buy some?
Our dental alginate moulds only last for about 1 week, so you need to purchase extra copies within 2-3 days of your design&casting appointment. We offer a variety of gift options, including fridge magnets, medallion ornaments, resin keychains, and additional shadowbox copies on our Accoutrement page.  
After the alginate mould has disintegrated, there are only two options: re-cast your baby, or re-cast the sculptures. Both are very possible, but will be more costly than ordering the copies up front. 
We want to buy additional framed copies for the grandparents who live out of town.  Can you ship their copies directly to them?
Yes! Once we have the addresses we can give you a quote for shipping costs. Let us know if you want their artwork gift wrapped, too!
Our families want to buy their own Accoutrements of our baby. Do I have to collect their payment and order details?
It's up to you. We are happy to contact you family members directly to take their orders, or you can give us the details directly. We can send separate bills for each product order by email, and they can pay right online by credit card, Apple Pay, or Interac E-Transfer.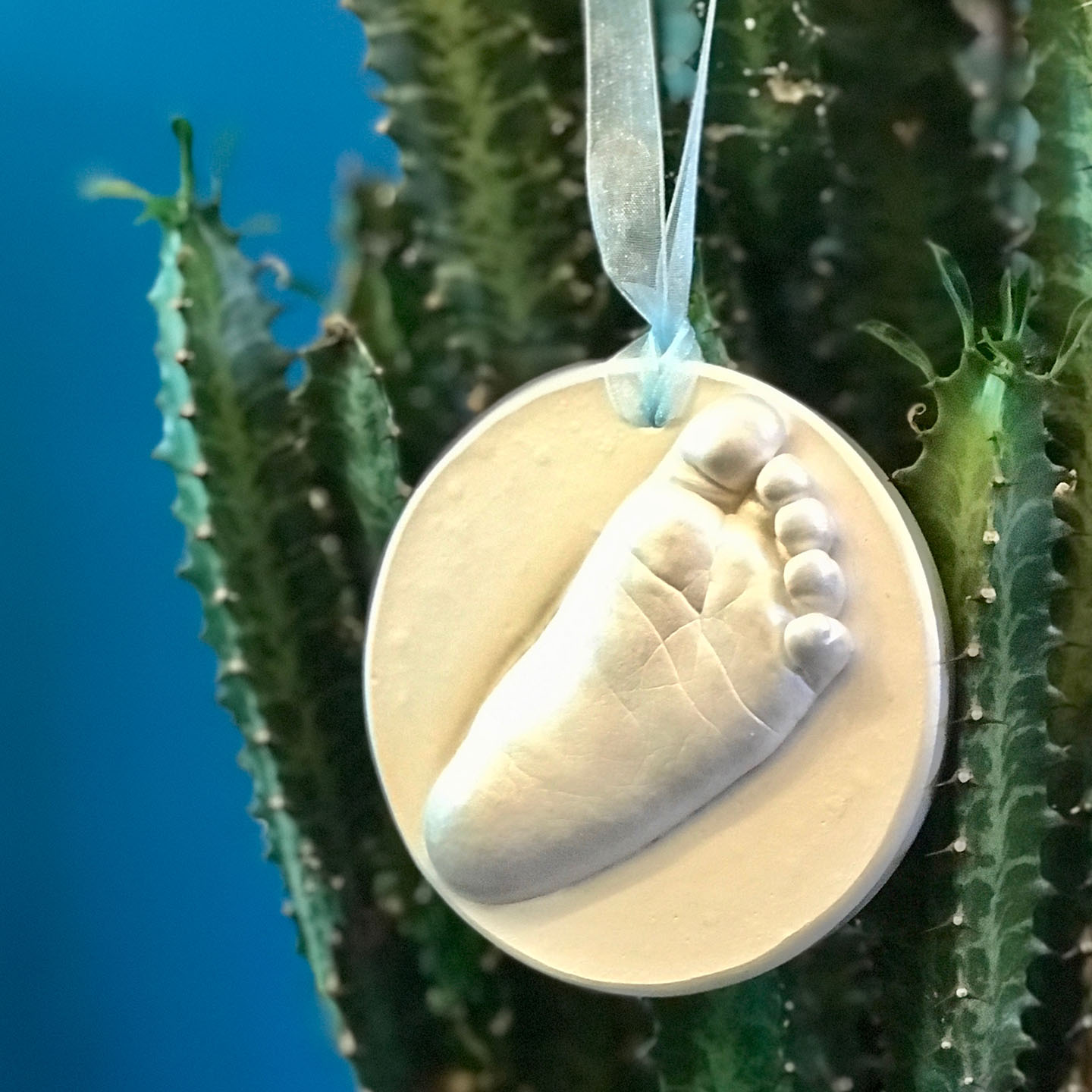 When I purchase a gift certificate for someone, what am I getting?
Whether you purchase online or by phone, our gifts will always include a custom certificate with your names, their names, and the gift that you are giving (either the dollar amount of credit, or the name of the product, if you are paying for the entire gift package). We can email that to you so you can print or forward it right away, or we can pop it in the mail to your or the recipient directly.  
If I buy a gift package for one product, what if they want something else?
Most recipients are thrilled to receive their Memory Casting package exactly as you chose for them. But sometimes they want something different. They will always have the dollar amount you paid for the certificate as credit to apply to any of our offerings, and that credit will never expire.
Payments and other details
Do I need to leave a deposit?
We ask for 50% payment at the design&casting appointment. The balance can be paid when the artwork is completed, but must be paid before we will give for ship the artwork. We only request a booking deposit if you are making the appointment on behalf of someone else, or have missed appointments without cancelling them first. 
How can I pay?
We prefer cash, checks, and Interact Email Money Transfer. We also accept Visa, Mastercard, and American Express in person. For online payments we also accept Apple Pay. Prepaid credit cards do not always work with our system. We do not have an Interac/Debit machine. 
Where do I send payments and photographs?
You can always communicate directly with your artist by email or text; but for photographs and payments, it's ideal to use our studio@memorycastings.com email address for quicker service by our studio artists and administrative staff.