··· Perfect for Newborns, Toddlers, Siblings, Milestones, and Keepsakes ···
Our Classic Shadowboxes include individual 3D castings of the hands, feet, bums, or paws of your loved ones displayed in a customized Shadowbox treasure box of your choosing. These are the perfect way to commemorate the birth of a baby, or celebrate the joys of being siblings!
Each Classic Memory Casting is custom-framed. You'll get to choose the colour and shape of the shadowbox, as well as any writing, colours, layout and personalized extras you want alongside the castings.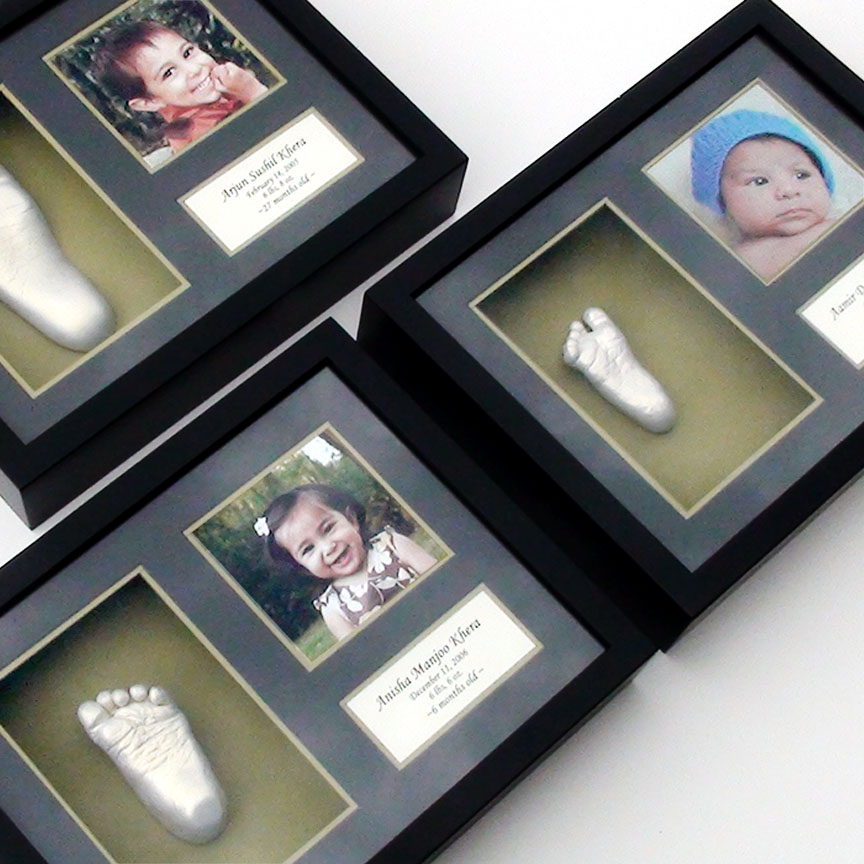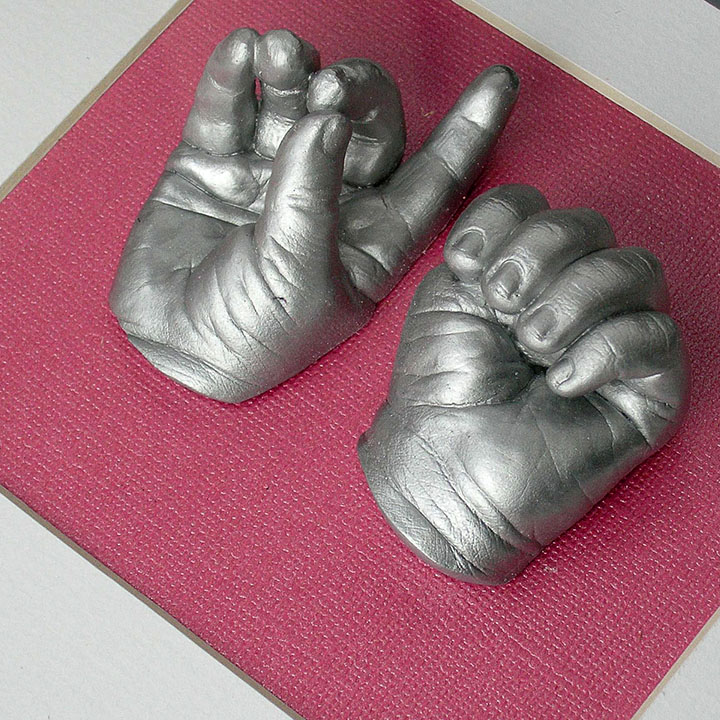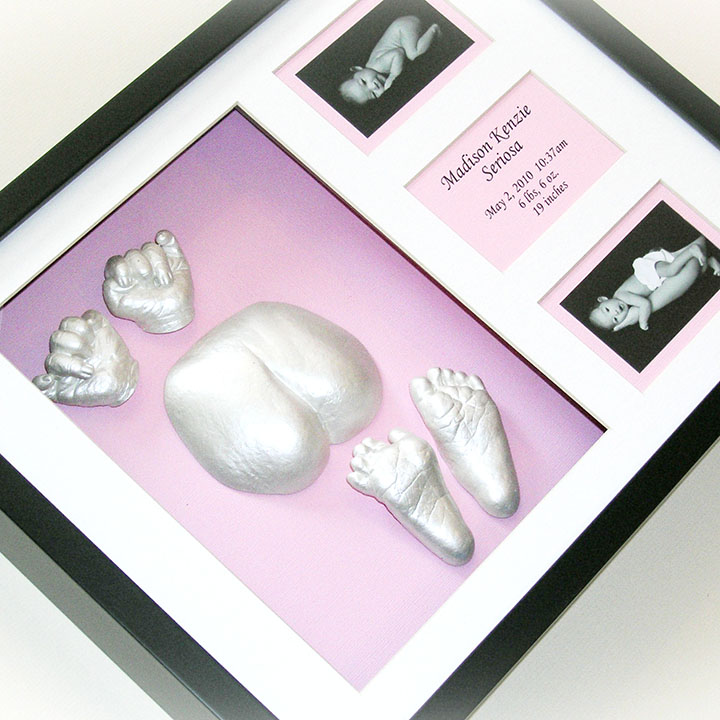 Believe it or not, our pricing plan is simple. Your Classic Memory Castings Shadowbox is a flat-rate price based on how many sculptures are in the frame, and what size Shadowbox you choose.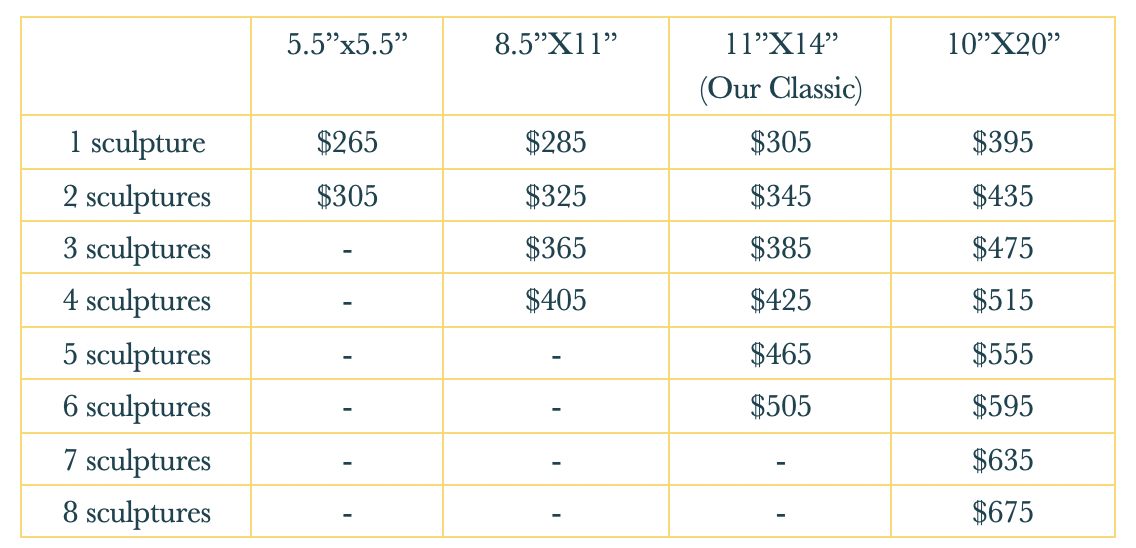 These costs include everything (except tax):
Your in-home design&casting appointment with our talented artist.

Professionally-detailed stone sculptures painted in your choice of gorgeous colours. 

Custom framing of your Shadowbox!  You choose the matte layout and number of photos, background and border colours, printed or vinyl text in a huge selection of fonts

We can add your photos or keepsakes at no extra cost

Delivery of your finished artwork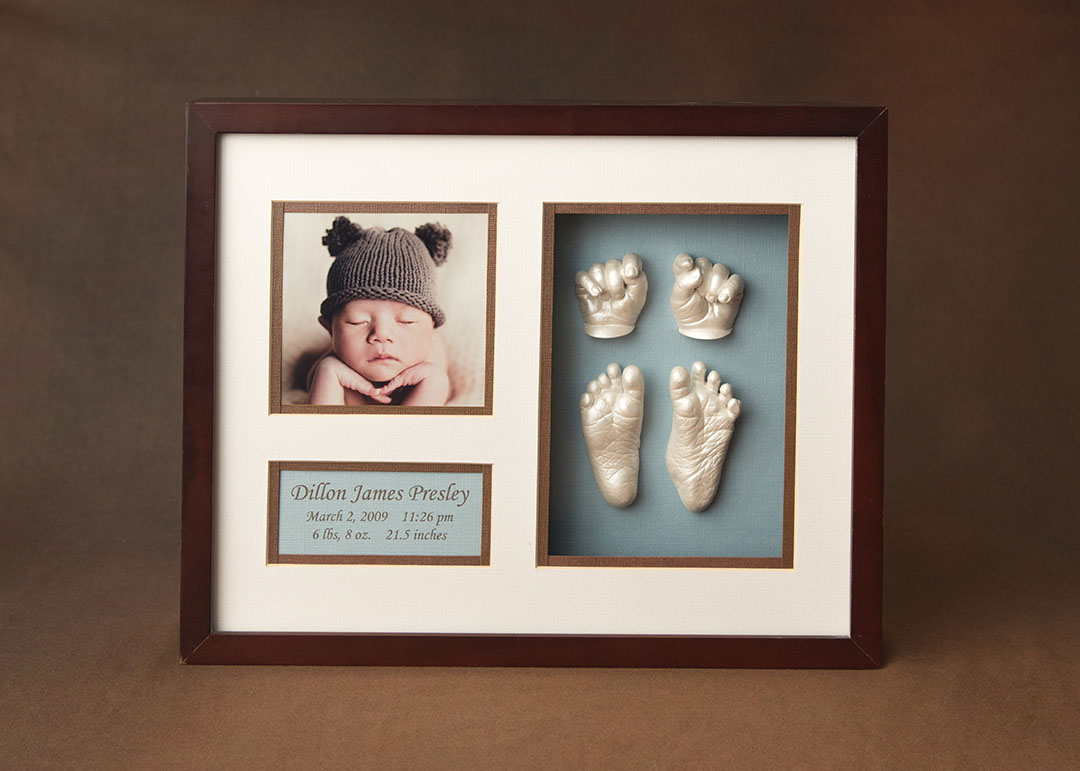 Newborns and Children are most often framed in their own shadowbox, creating a Masterpiece that is all about them. For newborns it is common to include their birth information, such as date and time of birth, weight and length. For older children it is less confusing if you include their age rather than their birth date.
When we create a Classic Shadowbox, you get to decide whose sculptures are in the frame. These types of shadowboxes become a snapshot in time of who your family is. Celebrate siblings; your whole family; or that special attachment between a child and their pet or best friend. There is no added cost to mix&match sculptures of different people and pets together.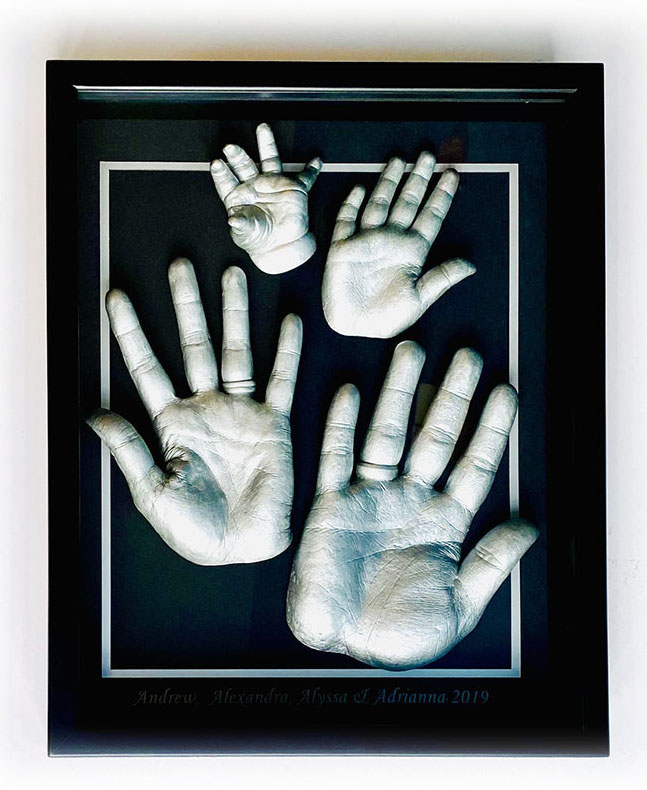 Find hundreds of ideas on our facebook page to inspire you
Celebrate the love between siblings by creating a Shadowbox that show off their bond. You'll get to see how big&little they are side by side. This option is especially practical if you don't have a lot of wall space, or you missed getting a Memory Casting made for your older children, but don't want them to be left out as your latest baby arrives.
At Memory Castings, we don't base our pricing on how we layout our frames. You want to include a few of your favourite photos: no problem! You need a great place to show off those first booties made for baby: we've got it! Your child wrote a moving poem and you want it on the wall: absolutely!
We cut all our own mattes, and do both printed and vinyl text for you in our studio. So if there is something extra-special we can do for you, please tell us.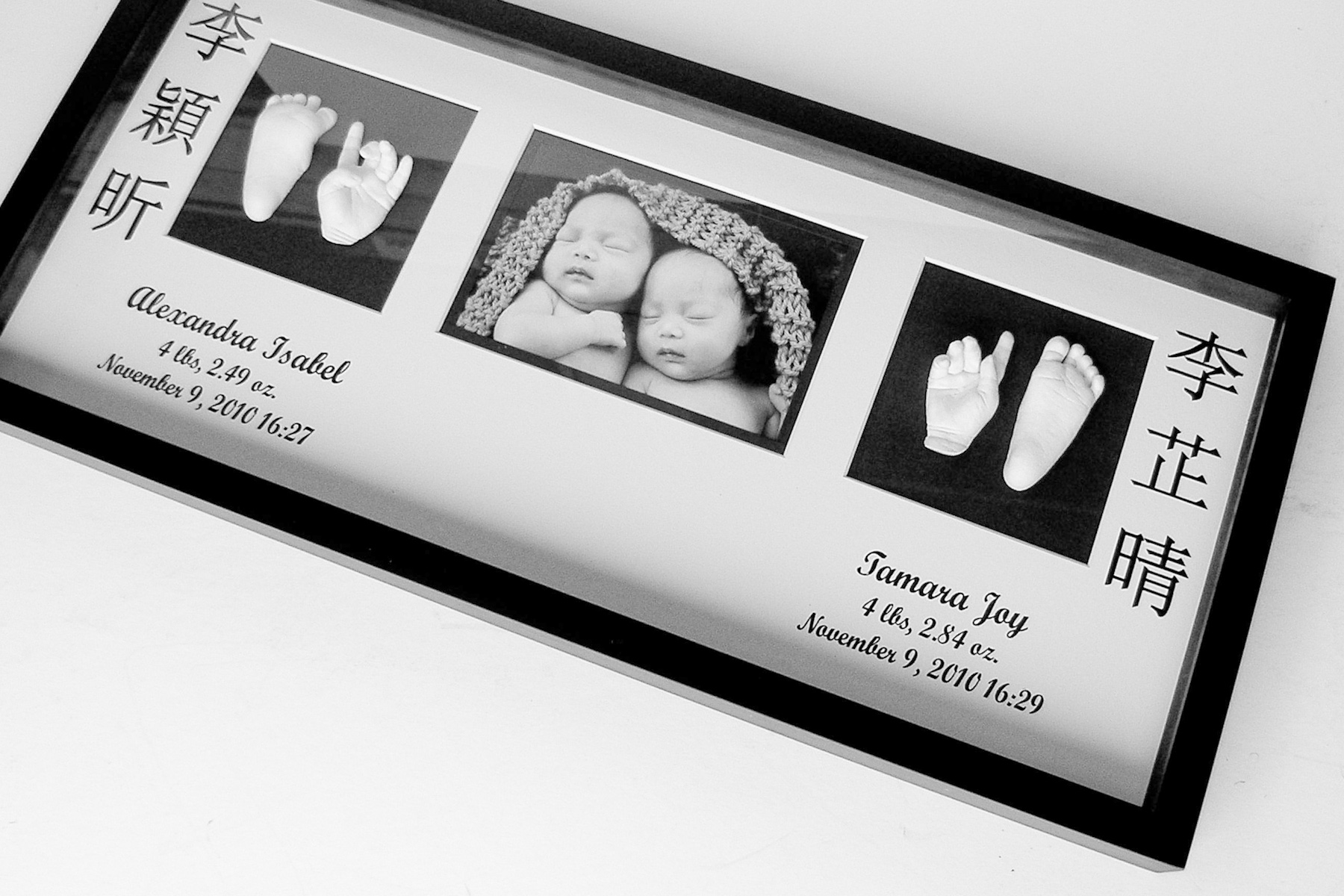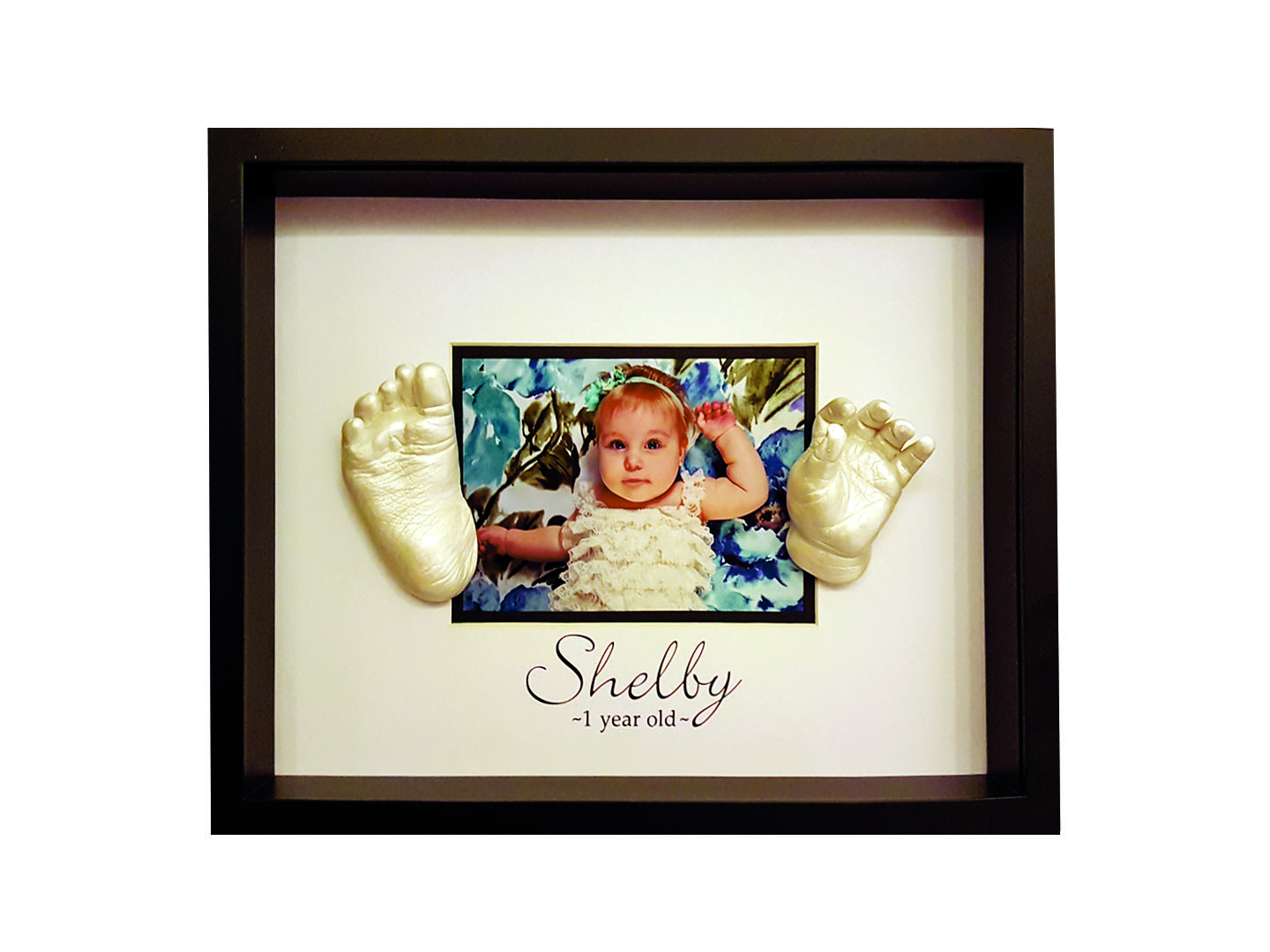 Milestones and Events are great reasons to make a Memory Casting. There is no limit to the age or size of who we are casting, so consider the moments you want never to forget. Memory Castings Shadowboxes are opportunity to capture the size of your child along with their annual school photo; their first medal; and definitely milestone birthdays
Don't know what you want? Not a problem. Our artist will help design the perfect Classic Memory Casting at your in-home design&casting appointment.
Occasionally, you need something our Classic Memory Castings shadowboxes can't quite meet. If an extra-deep, or oversize shadowbox frame is required, we can usually accommodate. Also, sometimes you might want something particular made, such as a metal plaque, wooden letters, scrapbooking embellishment, or dried flowers from a special event. Talk to us about what customizations you might need "outside of the box" so we can get you a quote. We do have suppliers available to help us fulfill your special requests.
Growth Charts are one amazing example of out-of-the-box thinking when creating a Memory Casting. These almost always require an oversize shadowbox, and will definitely require multiple appointments over a pre-determined span of time to ensure we don't miss any of the moments you planned to collect.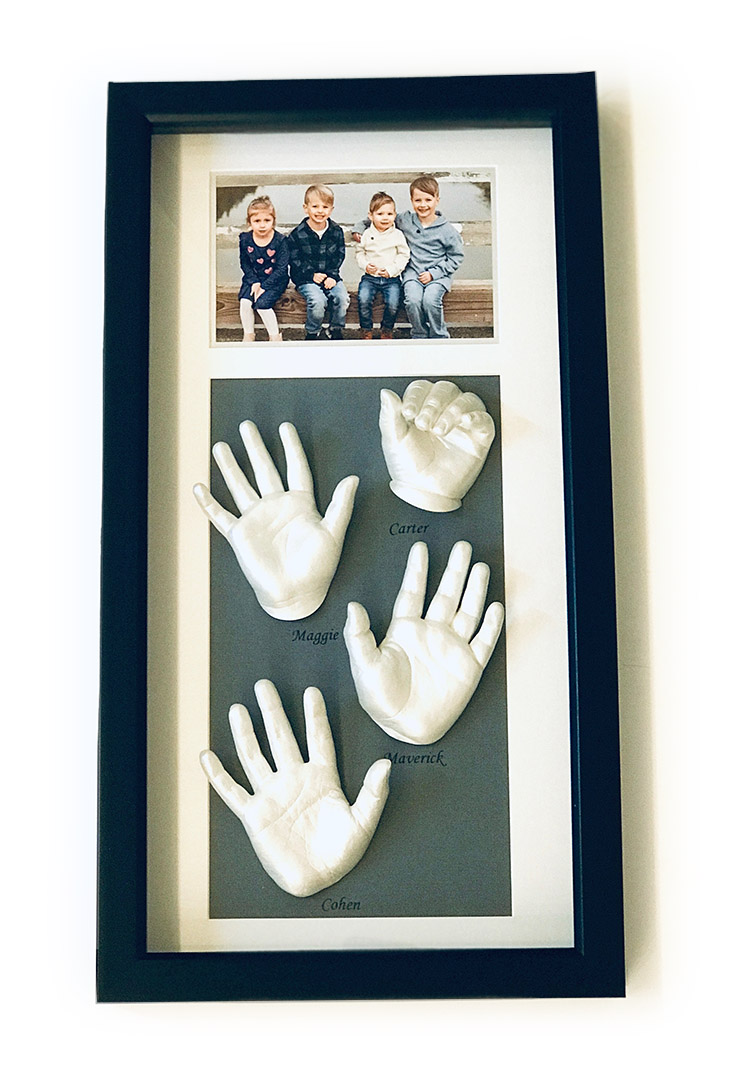 Our Classic Shadowboxes are normally created with amazing quality stone sculptures that are painted any colour you choose. These high-detail sculptures do an amazing job at showing off every wrinkle and dimple in the hands and feet you love. But if you want something extra-precious, we can upgrade your sculptures to cold-cast metal.
 Cold-casting is process that involves combining tinted resin and very fine-grain metal powder, capturing all the details you love, but in a finish that will change and patina over time, as metal does. Usually we use copper, bronze or brass. Some clients prefer the look of aluminum, or the rusting finish that steel provides. No matter the metal, the effect is a deeper, richer, more heavy casting. Upgrades to metal are based one the size of the castings.
Metal upgrades can be done to any of our Memory Castings, including those going in Shadowboxes, Accoutrements, or freestanding Love Sculptures.  Ask us for a quote for your custom metal project.