Love Sculptures are any unframed Memory Castings meant to be enjoyed in full 3-Dimensionality. They make exquisite centrepieces or mantlepieces because they are not confined to the structure or depth of a shadowbox.
 We love these best when the goal of the creation is to capture the love and connection between the intertwined hands. Nearly any configuration is possible. Like with all Memory Castings, the Love Sculpture is customized to suite your dynamic needs and aesthetics. The finished colour, mounting, and layout are designed especially for − and with − you.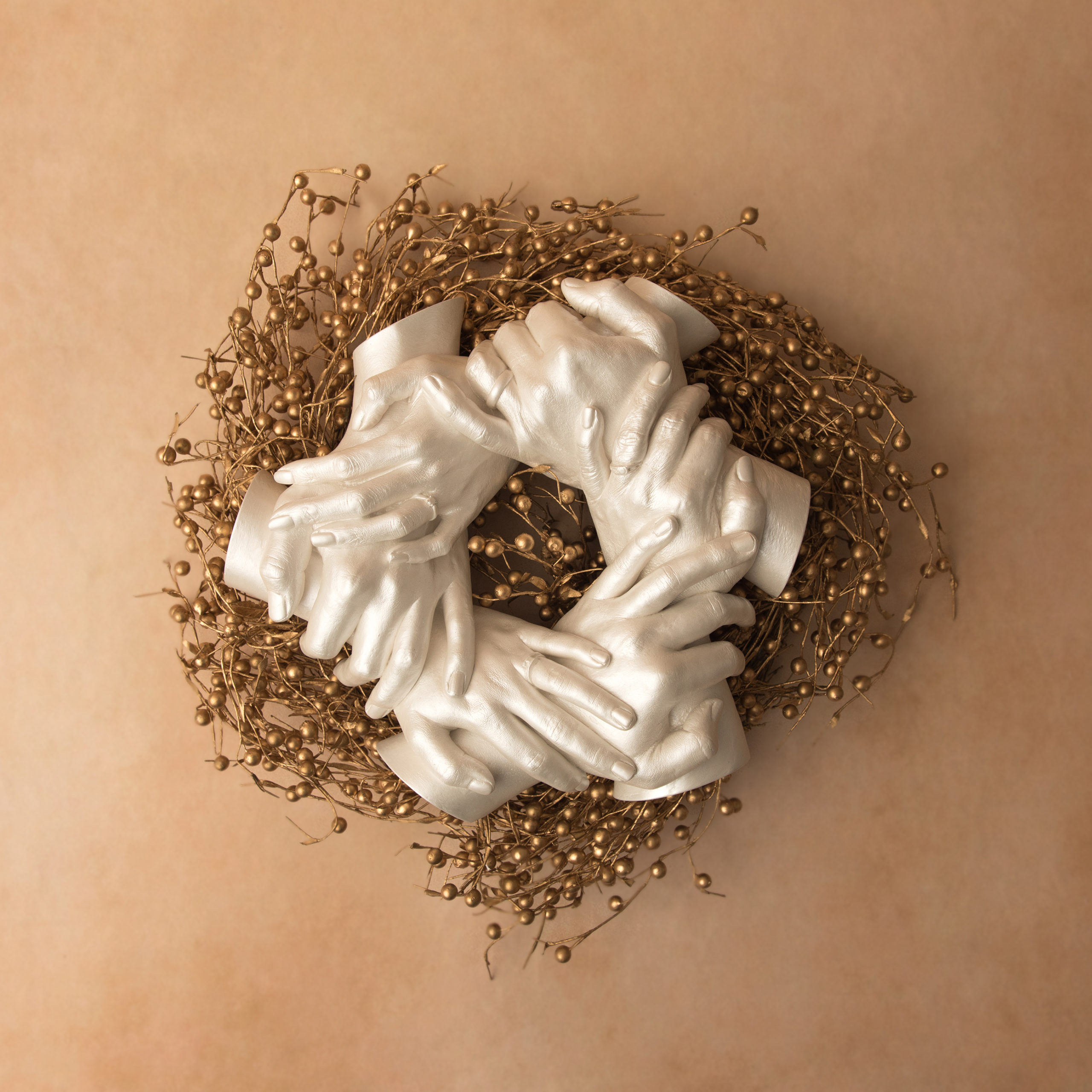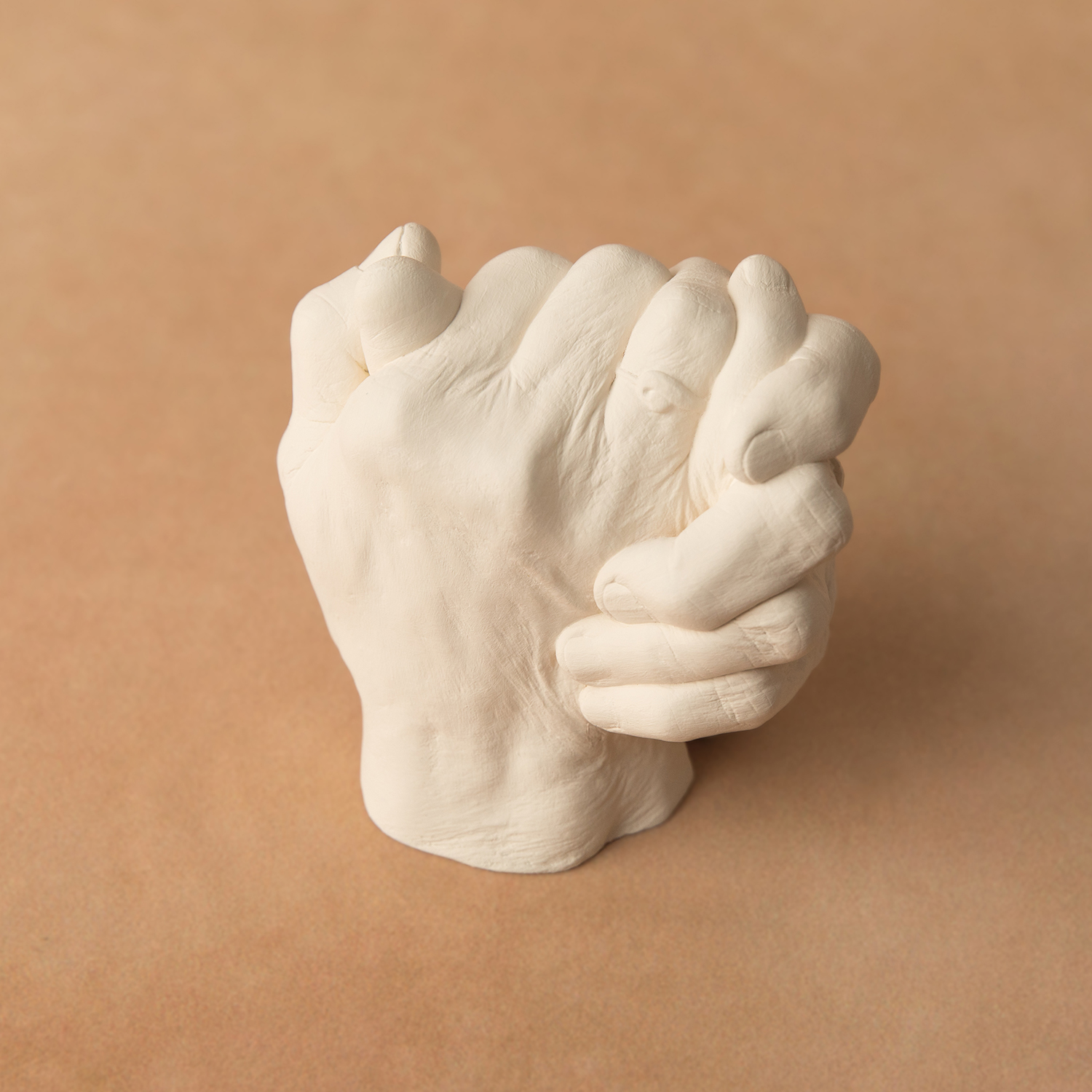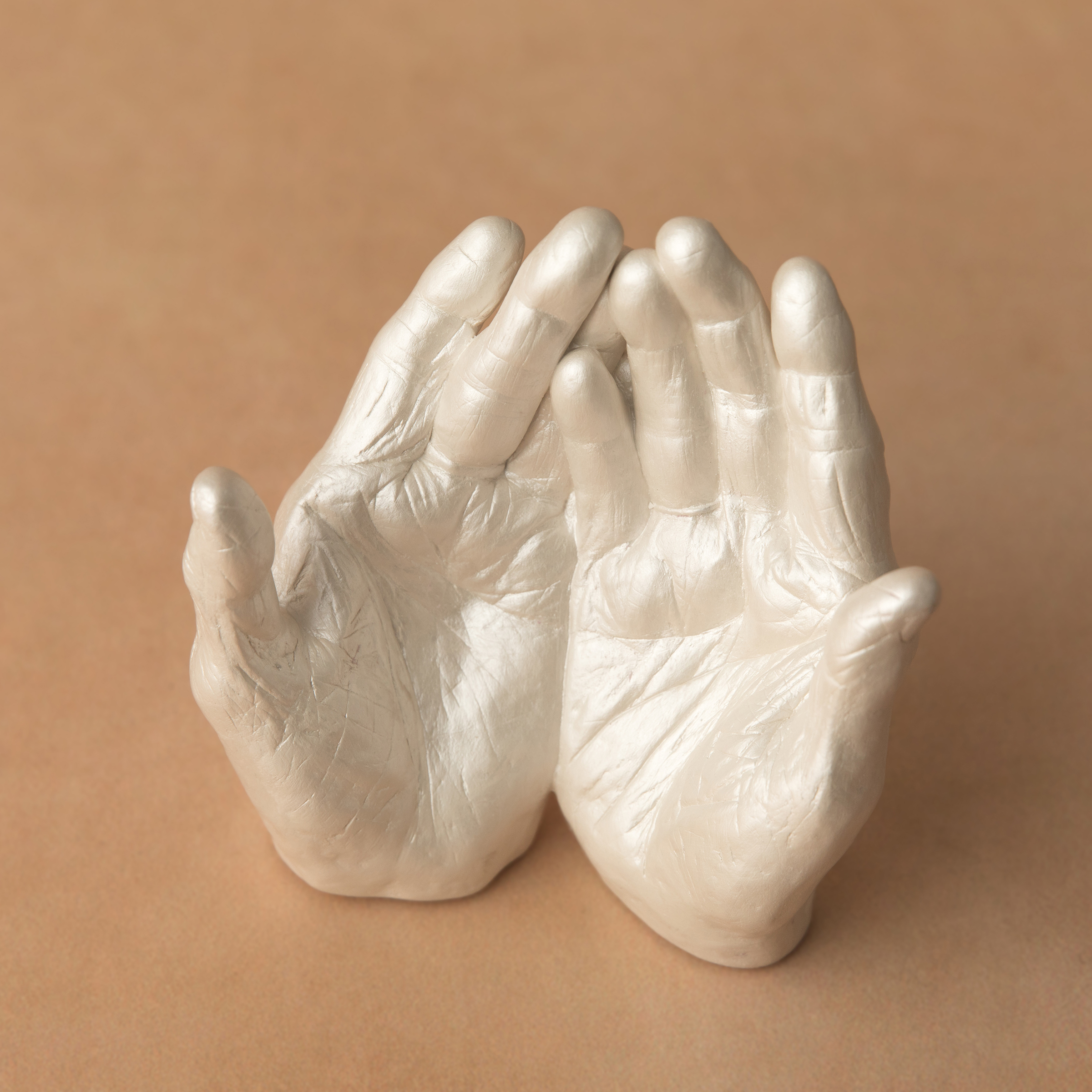 Layered, wreathed, intertwined, or scaffolded: Family Love Sculptures have limitless possibilies!
There is no limit to the number of people we can cast together, but we do require that each member is at least 4-years old. Investment is $475 for the first three hands, plus $100 more for each additional.
There is no greater beauty than the intimate love between two people. Whether it's a loving couple (young or old!), parent and child, siblings, or best friends: Pairs Love Sculptures are all about you.
Pairs Sculptures most often include interlaced fingers, though sometimes in a prayer, or creating a heart with your hands. Wear your meaningful rings in the sculpture. A most loving Wedding or Anniversary Gift. $300 when at least one member is at least 5 years old
INDIVIDUAL LOVE SCULPTURE
Sometimes it's just about one person or one moment. Your child holding their baseball after her first season of play. Grandma's elderly hands wearing her wrinkles and family ring with pride. Whatever moment you want to capture about this special person, we can bring it to life in full 3D.
Individual Love Sculptures can be enjoyed free-standing, or on a base. $195 each, or $325 for a pair.
Parents are a vessel of love for their wee little additions.
Bowls of Love are dynamic Love Sculptures that adapt to your growing family. Parents create the bowl-shaped vessel with their connected hands, and baby's hand or foot is cast as an unattached, loose 3D sculpture to place inside. If a new baby comes along, their castingsjust join their sibling in this beautiful cradle of love.
$500 for two parent hands and two baby hands or feet.
Making a Love Sculpture is a fun, physical, involved process. Whether we are casting one person Individually, or 10 people holding hands: you'll be diving deep into dental alginate and are guaranteed a good time! Everyone in the Sculpture must be present at the Design&Casting Appointment. If this is not possible, talk to us about ways we can create a group look using Individual Love Sculptures or a Shadowbox instead of touching hands.